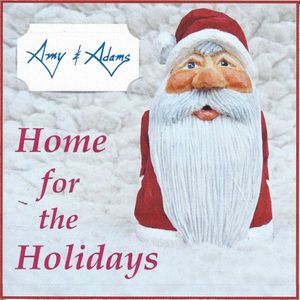 It's time to unwrap a brand new Amy & Adams Album - #7 -
Amy & Adams: HOME FOR THE HOLIDAYS.
For years Amy and our fans have been urging us to capture the magic of our
live Holiday programs.
This year, amid the recording of a brand new album of 17 all original tunes, we somehow
(due to an ice storm last February) found time
to finally record some favorite carols to add to several songs we put on a homemade
Christmas/Holiday album back in 2003. 
We hope you will find it the perfect way to warm up on a frosty winter's day.
Or cool off if you live in the more southerly climes.
Thanks for stopping by.
Merry Christmas & Happy Holidays
Enjoy!
Amy & Mark